The traditional village of Lagada
Lagada is a picturesque seaside village, located 16 kms northwest by the city of Chios, at the bay of Kolokithia. Here were relocated between 1910-1950 the residents of the today uninhabited area of Kidianta.
Built amphitheatrically at a Lagadi ( plain ), which explains the namesake of the village, the village is particularly rich with olive trees, eycalyptus, fruit-bearing trees and waters. It is crossed by the Krikelis river. Lagada is characterised by it's narrow alleys, short houses and beautiful yards. West of it expands the settlement of Agrelopos, which was named by the great number of wild olive trees. Today both of the settlements consist a residential unity. 
High, at the east side of the village stand out the remnants of a Windmill one of the many in the area during the past that used to grind wheat.
From the picturesque seaport of the village, one can look towards the amazing view of Oinoussais island, which can be visited taking advantage one of the many scheduled sails.
In today's Lagada, the visitor can find rooms or apartments to let. Also, at the numerous taverns and restaurants, one can enjoy delicious seafood but coffee and snacks too. Lagada doesn't offer organised beaches, but still the shore there is an attraction. Eastern, at the edge of the port, is located the Fanaraki beach with its pebbles and the Karidas beach too.
The history of village dates back to ancient times, and the village has been inhabited continuously for thousands of years. In the Middle Ages, Lagada was an important center of commerce and trade, and the village's well-preserved buildings and architecture are a testament to its rich history. The village's main attraction is the imposing church of Panagia Krina, a beautiful and historic church that dates back to the Byzantine era.
In addition to its historic attractions, Lagada is also known for its charming tavernas, which offer visitors a taste of traditional Greek cuisine. Some of the most popular tavernas. 
The village is very close to the charming beach of Nagos and it is a wonderful idea to combine it on a daily excursion.
Apart from Lagada Village, some other villages that worth to villages are the following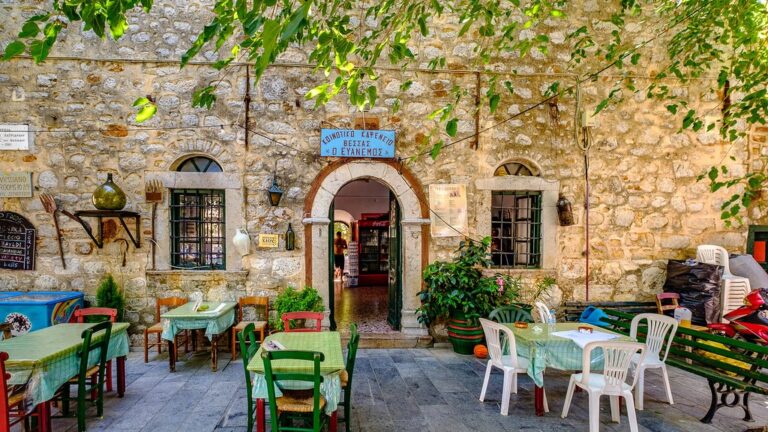 vessa
Vessa is a medieval chios village that lies in the center of a big agricultural plain. The village's main gate is preserved in a very good condition. The area has well laid -out streets and high narrow buildings that look like towers.