The fascinating Archaeological Museum Chios
FIrstly the central building of archaeological museum chios expands in three stories. The exposed concrete and glazed coverage on the walls consists a representative sample of architectural style of the 60s.
Secondly , the  building, which is located at the east side of the central  building, leads from the yard with it's marble staircase. There is a canteen and two conference rooms for lectures and educational purposes. In the courtyard space, exists an amphiteatre for exhibitions and educational programms. Pebble art style covers the floor.
The permanent exhibition is entitled " Chios t' enalos polis Inopionos " ( Chios the seaside city of Inopionos ). 
On the first floor are hosted: a) exhibits of prehistoric Chios from the Last Neolithic era up to the Mycenaean Period, b) specimens of plastic art and sculptures ( statues, portraits, repousses ) from the 8th century BC up until the Roman period and c) tomb stones and inscriptions.On the second floor, which hosts two exhibit halls, are hosted specimens of ceramic and metalworking from the Archaic up until the Roman period and the most important specimens of architecture. 
Voulamandis house is just 10min from the Archaelogical museum chios. We strongly recommend to visit it. Moreover it is a nice idea to combine it with a visit to chios castle. 
Apart from Archaeological museum chios, some other museums that worth to see are the following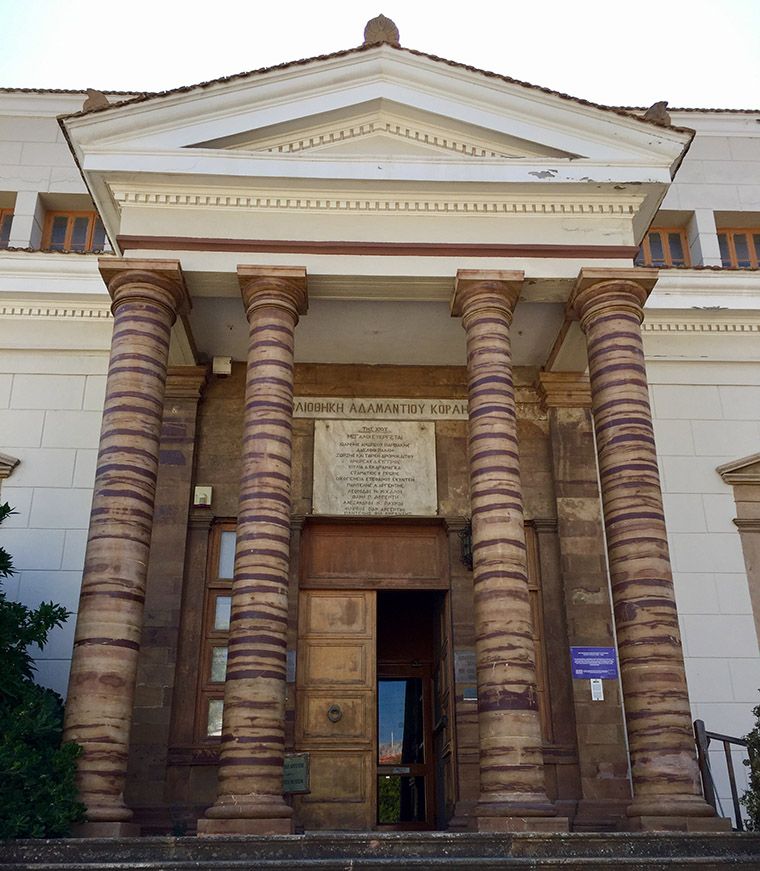 Koraes Library
Its first collection consisted of books belonging to Adamantios Koraes and other Greek intellectuals from abroad.