Discover the Best Chios Rooms : Voulamandis House rooms
Looking for accommodation during your vacation in Chios? VH offers three types of rooms. Firstly, we have the economy double rooms, perfect for budget-conscious travelers. Secondly, there are the double triple rooms, cosy and warm rooms for couples that would like a more comortable room with space . Lastly, our family apartments are nestled within our enchanting citrus yard, surrounded by fragrant mandarine and orange trees, ideal for small groups or families.
Our main building, consisting of a ground and a first floor, houses the economy double Chios rooms and the double triple rooms. These rooms have undergone complete renovations while preserving the unique architecture of the Kambos region. You'll enjoy the perfect blend of traditional charm and modern amenities.
Feel free to explore the room options that best suit your needs below. For any inquiries or further clarification, please don't hesitate to contact us. Should you require additional information, please visit our FAQ page or reach out to us via our social media channels or the contact form provided on the Voulamandis House website.
Voulamandis House type of rooms
Generally speaking our rooms are described above. Let's see each category of rooms chios and chios rooms to let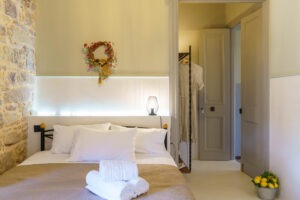 Voulamandis House has two economy double rooms , the one is located in the first floor of the bulding and the second on the ground floor. The economy double room, as all the rest of Voulamandis House, have been lately renovated. Click here to view more details about these type of chios rooms, check the availability and our rates. economy double rooms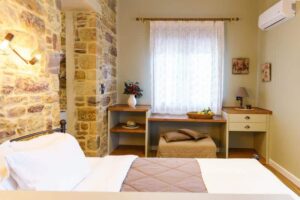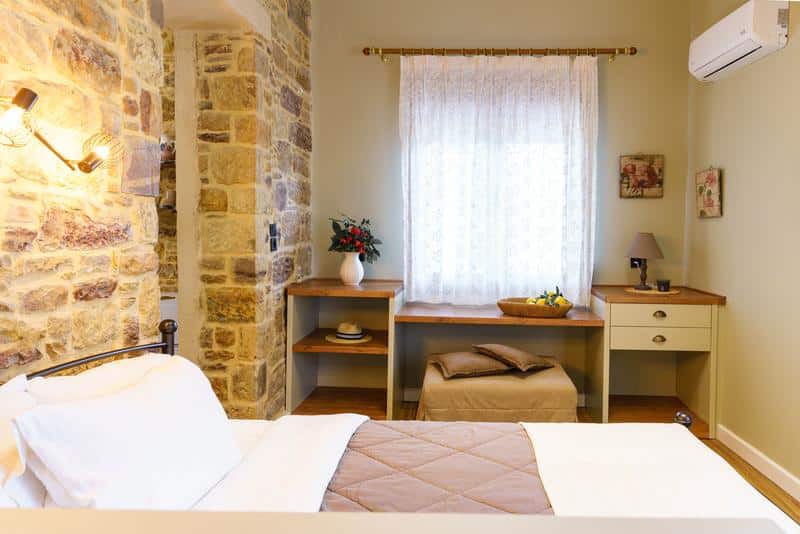 The warm decoration and secondly the stony walls ensure you for a pleasant and enjoyable stay. Standard double rooms are big and spacious chios rooms in Voulamandis House and may be used as a triple even as a quadraple. These type of rooms are also renovated with the main intention not to miss home. Check out availability and rates. standard double rooms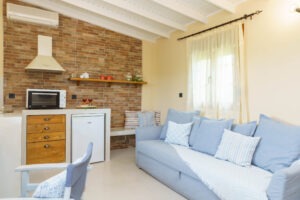 The family chios apartments are located apart from the main building of the Voulamandis house. The family apartments are designed to accomodate comfortably families or a group of friends. Check out our availability and find the best rates on the web. Click here to find out more details and photos of these type of rooms. family chios apartments