The Attractive Salagona Beach is waiting for you
Salagona beach is located in southwestern Chios.  5 km se kilometers from the village of Olympi, in the area of Mastichochoria. It is a beach with fine pebbles and wonderful turquoise waters. In recent years, a canteen has been operating. Visitors are able to find umbrellas and sunbeds, when they visit the beach. 
Lovely scenery with a nice pebbled beach (and the pebbles are small enough so you can actually walk without risking breaking a leg for a chance!) Has a small van that offers refreshments and umbrellas! One of the very few places that offers such amenities. Definitely worth the drive to reach it. Furthemore, what we would like to highlight is that is easy to get there. 
The street is asfalt and very convinient. When you pass by Mesta village , you should be careful to notice a sing on your left in order to get there. These small details we are always happy to provide you after breakfast.
In conclussion, always before visiting a beach would be nice to have acheck on the weather conditions. What we mean about that , is just to check the wind directions. Salagona beach is not recommended for south winds. Special thanks to chiosphotos.gr for the video,
Apart from Salagona Beach scroll down to explore some other nice beaches of Chios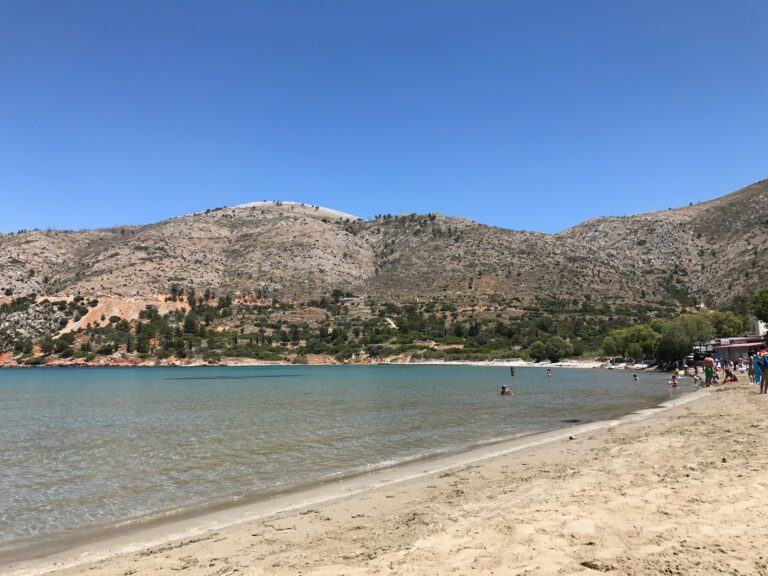 lithi beach
Unveil the enchanting secrets of Lithi Beach, a captivating coastal gem on the southwest coast of Chios Island, Greece. Just 25 kilometers (15 miles) southwest of Chios town, this pristine haven beckons exploration. Accessible by car, Lithi Beach promises a wonderful escape into natural beauty. While indulging in the sun-kissed shores, consider exploring the nearby Voulamandis House, adding a touch of cultural richness to your seaside retreat. Lithi Beach invites you to embrace the wonders of Chios beach life—a mere drive away from the heart of the island. Immerse yourself in the allure of Lithi's captivating secrets.