Picturesque Mavra Volia Beach
The road leading to the seaside resort of komi beach is a wonderfull beach located in the south east side of the island. Mavra Volia is a little before the entrance to the medieval village of Pyrgi. 
Emporios is a picturesque small port, which has become famous because of the nearby seasides of Mavra Volia. Psaronas is the name of the (now inactive) volcano. 
The black, rounded, shiny pebbles of the beach are the result of the volcano's explosion in the ancient times. You can find cafes, tavernas but also some rooms to let there
At a short distance from the port, there are three successive bays with deep dark blue waters. The black pebbles and wild scenery is a result of the volcanic activity of the distant past in the area. Swimming there is an experience not to be missed!
Furthermore,  someone can find a canteen and in some occasions sunbeds. Always it is useful to ask the reception
In conclussion , wee would like to mention that the following video someone can find it in chiosphotos.gr . 
Apart from Mavra Volia check out some other recommend from Voulamandis House beaches #beach mavra volia #mavra volia chios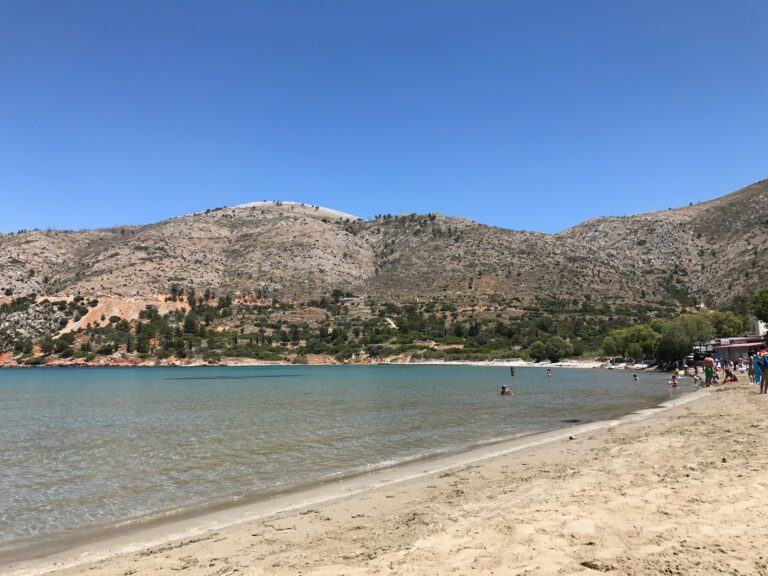 lithi beach
Unveil the enchanting secrets of Lithi Beach, a captivating coastal gem on the southwest coast of Chios Island, Greece. Just 25 kilometers (15 miles) southwest of Chios town, this pristine haven beckons exploration. Accessible by car, Lithi Beach promises a wonderful escape into natural beauty. While indulging in the sun-kissed shores, consider exploring the nearby Voulamandis House, adding a touch of cultural richness to your seaside retreat. Lithi Beach invites you to embrace the wonders of Chios beach life—a mere drive away from the heart of the island. Immerse yourself in the allure of Lithi's captivating secrets.